Rona Andrews Antiques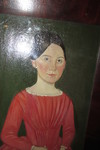 Rona L. Andrews
|
12 Russell Rd. #203 Wellesley, MA 02482
|
435-640-0701
|
rona.andrews7@gmail.com
I've been buying and selling Country Americana for 40 years and every item is a treasure to me. I hope my offerings find their way to your homes!!! NEW G-MAIL ADDRESS HAS ENDED THE PROBLEM WITH RETURN EMAILS WHEN YOU SEND AN INQUIRY! BUT, if you don't get a response to an inquiry, PLEASE TEXT ME AT 435-640-0701! My selling policies include: Accepting personal check or money orders within 5 days of sale. MA tax of 6.25% charged if you are a MA resident/or provide your tax exempt form. You may also use PayPal 'friends and family' TO ANDREWSRONA@HOTMAIL.COM for faster shipping. Your satisfaction is guaranteed. Customers may return items in the same condition as they are received within 72 hours of delivery for a full refund, less the cost of shipping and insurance when the item is returned and condition verified. Please call me at 435-640-0701 before returning any item. Thank you for shopping with me
---
HOPE TO SEE YOU AT THE HUDSON ANTIQUE SHOW SATURDAY MARCH 6TH AND SUNDAY THE 7TH, AT THE CANFIELD FAIRGROUNDS IN CANFIELD, OHIO!
Price: NEW ITEMS COMING NEXT WEEK
---
Dig Antiques assumes no responsibility for the items listed for sale on DigAntiques.com. Any transactions as a result of items listed for sale through this Shop is strictly between the Shop and the Buyer. Please read the Dig Antiques Terms of Service for more information.